About Us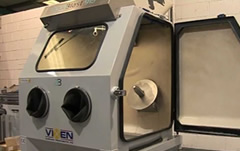 Yorkshire Vapour Blasting have been specializing in cleaning / restoring motorcycle and car parts for the last 10 years. The vapour blasting process we employ is suitable for Aluminium, Bronze, Magnesium, Titanium, Brass and Copper. It gently cleans the surface without damage to gasket faces etc. Producing a satin finish.

Yorkshire Vapour Blasting are also able to help supply parts to aid restoration projects. Here are some of the items we can supply, usually withing 48 hours:


Click here to view our product catalogue
Latest News
27.01.2022
Yorkshire Vapour Blasting are proud to launch the official website. Your home in Yorkshire for vapour blasting, ultrasonic cleaning and welding services.
15.01.2022
Follow Yorkshire Vapour Blasting on Twitter for all the latest insights into what current projects Yorkshire Vapour Blasting are working on.
08.01.2022
You can now find Yorkshire Vapour Blasting on Facebook. Where you can keep up to date on latest offers and our latest projects.
Read More