Process & Equipment
The process cleans by flow, not impact, producing a 'soft' finish.
The water acts as a lubricant, avoiding media impregnation and also extending the life of the blast media. The typical process is as follows:

The water/media slurry is contained within the wet blasting cabinet sump.

Delivery of the slurry to the manual blast nozzle is via a glandless polyurethane pump and associated hoses located inside the wet blasting machine.

Compressed air is added at the blast nozzle to accelerate the slurry and create the cleaning effect.

After contact with the component, the slurry then drains back into the sump creating a re-circulating system.

Fine broken down media and other contaminants are fed via an overflow to a sedimentation filter located at the rear of the wet blasting machine.

The vapour blasting process is suitable for Aluminium, Bronze, Magnesium, Titanium, Brass, Copper etc.It will gently clean the surface without damage to gasket faces etc,produces a satin finish which will handle without picking up finger marks and gently peens the surface so can help reduce porosity in castings. It will gently clean the surface without damage and leave a nice satin finish which is very easy to keep clean.


The process causes no damage or scouring to the material which means that gasket faces and bearing journals are left unscathed.


The primary stage of the process is to ensure that the items to be vapour blasted are completely free from traces of paint or grease as the slightest contamination can have adverse affect upon the process.

If time is pressing, you lack the necessary cleaning equipment or it's just a case of not being confident of being able to clean the item to the required standard then we will provide this service for a small additional charge, depending upon the cleaning level required.
Another service we offer, which compliments Vapour Blasting, is Ultrasonic Cleaning. Ultrasonic Cleaning uses high frequency sound waves through liquid to effectively remove dirt and contaminants such as stale fuel.

It provides a powerful yet gentle cleaning process for all hard to reach areas. What it won`t do is remove staining and general dulling of aluminium. Vapour blasting will restore that "as new" finish.

It is non caustic and non abrasive, so is very popular for internal cleaning of carbs, jets, etc. Ultrasonic cleaning uses Cavitation bubbles induced by high frequency pressure (sound) waves to agitate a liquid which provides an effective cleaning method.

Ultrasonic cleaning penetrates even microscopic openings to provide complete cleaning of the objects treated. This makes it one of the most effective, economical and powerful cleaning methods available especially in small delicate components.

Ultrasonic Carb Cleaning.
The process cleans both the external and internal areas of the carburettor and its jets, removing fuel that has 'gone-off' and also carbon deposits hence improving performance.


This process will not remove rust or staining of the carburettor, but the cosmetic appearance can be improved by  vapour blasting the outside of the carburettor prior to this process.


After Ultrasonic cleaning, we dry the item and coat with ACF50.
Find out more about ACF50
What do we balst?
Motorcycles
Car Parts
Classic Parts

Safe On:



Carbon Fibre
Stainless Steel
Rubber
Chrome
Brick
Sandstone
Fibreglass
Aluminium
Glass
GRP
Note: All bearings & valves etc have to be removed and anything lacquered or painted will need to be stripped prior to blasting as this process this can be done by yourselves or by us if you require us to.


After Blasting all parts will be washed and blown down with compressed air to remove the glass bead then dried on exiting the washer the parts are sprayed with a corrosion inhibitor & packed ready for dispatch.


Whilst every care is taken to ensure there is no glass bead remaining we do advise that you rewash all parts again before fitting.


Yorkshire Vapour Blasting cannot be held responsible for any damage caused by improper cleaning after the blasting process.
Vapour Blasting
The key to vapour blasting is that the finish
is produced through flow of water borne abrasive, giving a finer finish due to the flushing action of the water. No media is impregnated into the component, nor is there any dust created by the break-up of media, unlike dry blasting where the finish is produced by sheer force of media impact.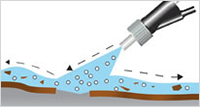 A specially designed glandless polyurethane pump agitates water and media into a slurry, and pumps it to the blast gun. At the same time this slurry is pumped at approximately 2 bar to the nozzle, and air is introduced at the blast gun to accelerate the slurry and its cleaning effect on impact, albeit cushioned.
TIG Welding
We can also offer MIG & Tig Welding services with years of experience working with stainless steels and Aluminium please contact to discuss your requirements.